Reach even more clients and write more Hospital Indemnity business this AEP with GTL's NEWEST Guaranteed Issue ages!
Advantage Plus Elite and Indemnity Plus Elite's Guaranteed Issue ages have just expanded AGAIN!
Guaranteed Issue ages are now 64½ up to age 70!
Check out the current state availability below.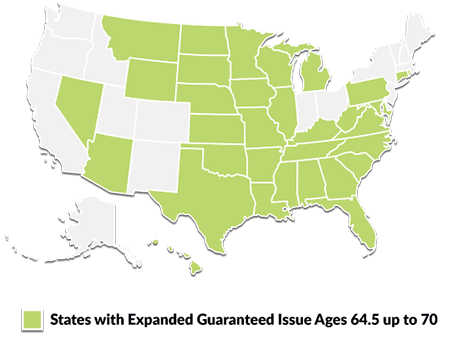 Why is GTL's HIP Plan the best product on the market?
Robust base plan with short stay benefit payable starting at 6 hours, if hospitalized.
Affordable riders including ambulance, lump sum cancer
& more.
Easy application with only 5 basic underwriting questions.
Simple e-App process & paper app submission!
Updated marketing materials are now available on
GTL's Agent Portal and e-App availability coming soon!

Interested in learning more?
We have tons of information to send your way. Give us a call at 800-365-8208 to learn more or
fill out the information below and we'll send you all the details.