Custom and auto-assigned CRM Tags can help you be more efficient!
MedicareCENTER's data-driven insights can help you prioritize calls and be more efficient with your time! Auto-assigned CRM Tags, including Special Enrollment Period (SEP), Switcher and Cross-Sell Tags, show you at-a-glance which of your clients may need your help the most.
You can also create your own custom Tags to keep your book of business organized just the way you like it. Go to MedicareCENTER.com or download the MedicareCENTER Mobile App today to take advantage of these intuitive and FREE solutions!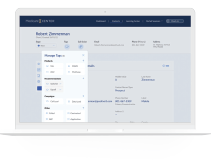 CRM Tags in MedicareCENTER can help you easily prioritize the actions you take with your clients?
Here's how to use this powerful feature:
Open a Contact record, then click "Tags" to view available Tags.
Add your own by clicking "Create Tag" at the bottom of the list.

Creating a custom Tag for new enrollees such as "Welcome 2023" can help remind you to follow-up after the enrollment period and serve your clients better.

MedicareCENTER automatically assigns several Tags, including:

SEP — Special Enrollment Period, for those in areas affected by
natural disasters
Switcher — clients who may be likely to change plans
Cross-Sell —clients might need additional products

Use the "Filter" button to then select and filter down to a list of Contacts who have been assigned the selected Tag