CSG Actuarial's MarketAdvisor suite of quoting tools makes it easy for everyone from independent agents to large companies to have access to accurate, up-to-date pricing and plan details for Premier Marketing products such as: Medicare Supplement, Medicare Advantage, Final Expense Life, Hospital Indemnity, and Dental. Access the data you need in our web-based subscription tools.
CUSTOM TOOL
Provide your agency with a competitive edge with the latest rates, underwriting, and plan details. Customize your quoting tool with the products, carriers, and states you need, with your logo and agency information.
MOBILE APP
Let CSG Actuarial develop your custom mobile quoting app to give your agents the ability to quote on the go from their phone or tablet. We will build and maintain an Android and iOS applications branded for your agency, including the products and states you need.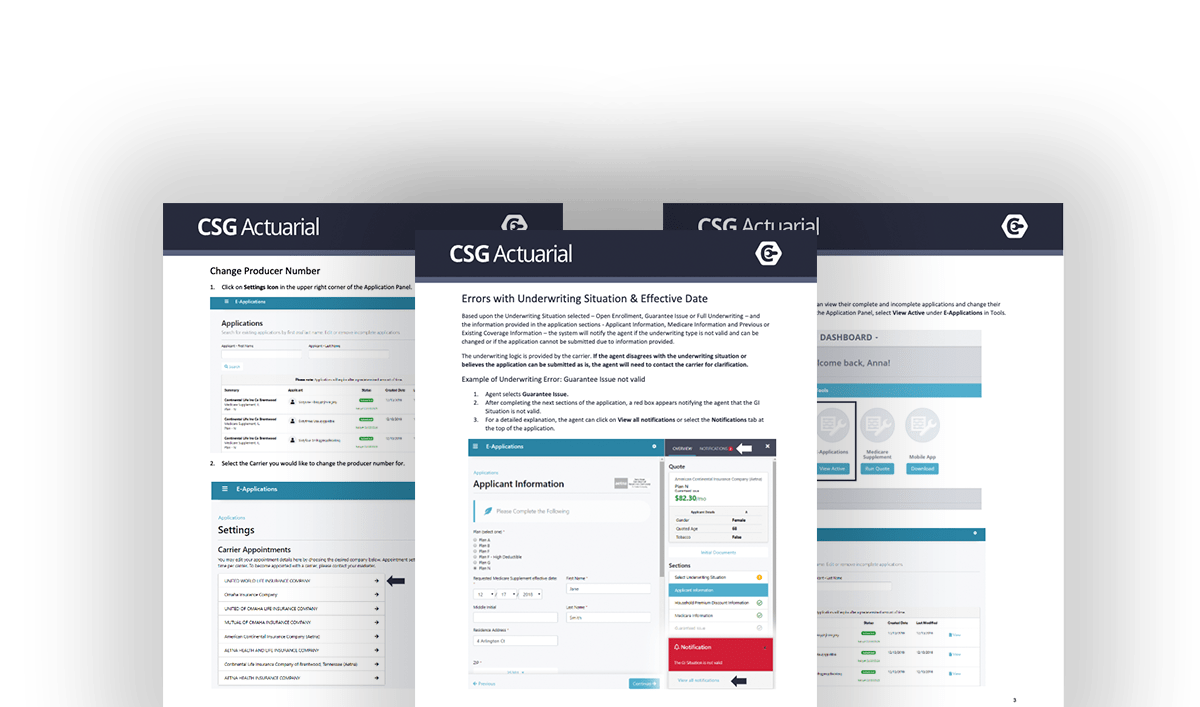 Check certifications and RTS status
Assist with missing/lost refunds or claims status questions
Send EFT forms to agents to update their account
Work on missing info for new business
Assist with logging into the Premier website
Carrier updates and downloads for Supplies Department
Reorder ID cards or policies
Fax missing info to carriers
Assist with CSG questions and approve/deny requests
Together, we can achieve success! 
Let us help you reach your goals by providing outstanding administrative support.  Keep your focus on what matters most…the needs of your clients.
Agent Support provides excellent service to agents assisting them with their questions and issues on a daily basis. We work with a variety of things to help agents continue to thrive in the field and succeed such as checking policy statuses, checking contract status and certifications, submitting change of address forms to the carriers, assisting agents with registering on SureLC, helping agents with logging in to the Premier Agent portal, and that's just to name a few. Our main goal is to assist with the issues that we receive, and provide accurate information in a timely manner.
Let's Chat

We recommend talking to someone from the Premier Team of experts. They'll provide answers to your questions and have tools available to support your new product offering.